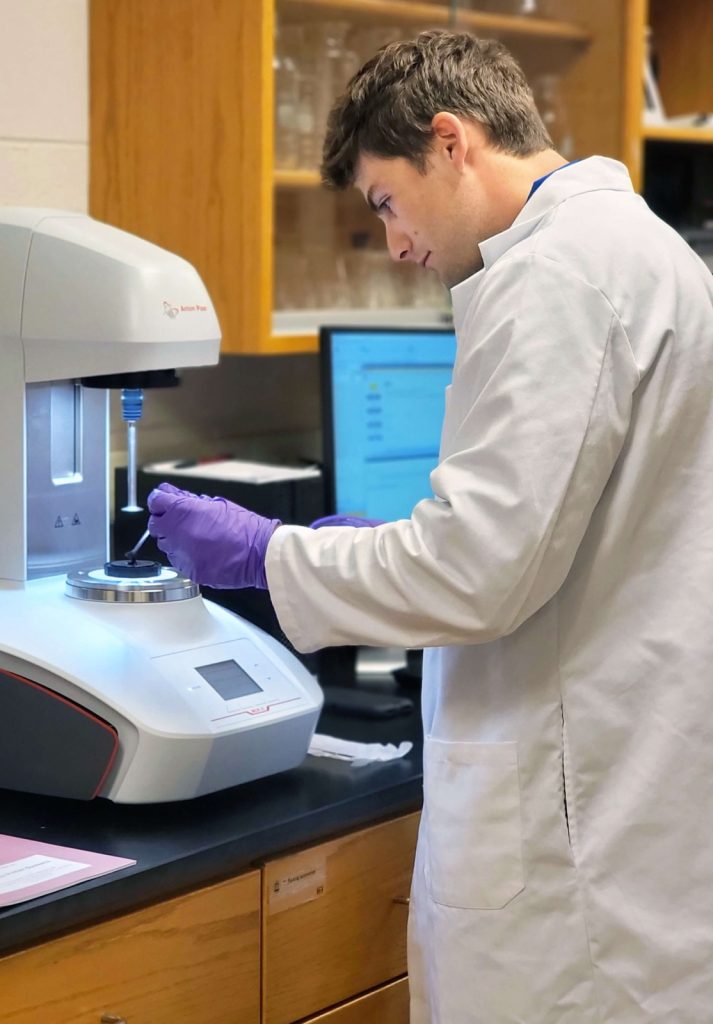 Peter G. Chiarelli has been awarded an Agriculture and Food Research Initiative predoctoral fellowship from the United States Department of Agriculture National Institute of Food and Agriculture for his research on Georgia-caught cannonball jellyfish.
Chiarelli, a doctoral candidate in the University of Georgia's Department of Food Science and Technology, is spearheading efforts to create a domestic market for collagen peptide powders derived from cannonball jellyfish.
"As far as I am aware, we are still the only ones in the United States working with jellyfish … This is our field," Chiarelli said.
The collagen peptide powder has a wide range of prospective uses, and Chiarelli is testing the use of the raw material in foods, cosmetics, pharmaceuticals and dietary supplements.
Kevin Mis Solval, food science and technology associate professor and Chiarelli's advisor in the College of Agricultural and Environmental Sciences, encouraged Chiarelli to apply for this fellowship and guided him through the application process after noticing his great passion for this research project.
"When Peter joined my lab a few years ago, I just knew he would be a great scientist," Mis Solval said. "He was really eager to explore ideas, work in the lab and really go through all of the scientific processes needed for this research."
To apply for the fellowship, Chiarelli compiled a 70-plus-page grant proposal with the help of Mis Solval and the UGA Research and Grants Office outlining budgeting, potential courses of action for the future of the research and more.
Mis Solval said that only 5 to 10% of applicants are awarded this honor.
"For food science students, I would say that this is the most prestigious award they can receive before they graduate. It's definitely going to change Peter's life forever. After he graduates from our program, he definitely has a lot of potential for growth, and I'm grateful he chose to work in my lab and chose me as a mentor," Mis Solval said.
Chiarelli hopes his future research will establish UGA as the leader of innovation in jellyfish research.
"Currently, the goal is to set the foundation for innovative jellyfish research in the United States. We are happy and thankful for all the support we have received from the University of Georgia, the UGA Department of Food Science and Technology, UGA Marine Extension and Georgia Sea Grant, and the UGA Griffin campus community," Chiarelli said. "We want to show that anything is possible with a dream. Years of consistent hard work, dedication and resilience to get back up when you fail has made this possible."