In Case of an Emergency
In the case of an emergency, please call 911 first!
The UGA Griffin Campus has 24/7 campus security officers on campus that are here for you. You can reach them at any time by calling 770-412-3008.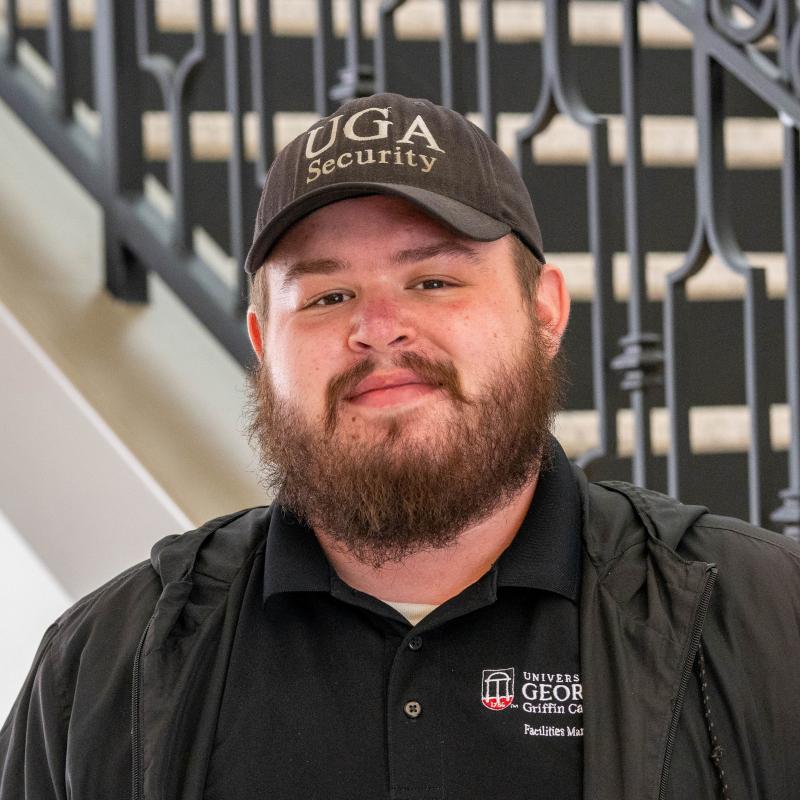 Facilities Management – Griffin

Our Senior Security Officer is Cameron Harding. His office is located in the Support Services Building in room 102 but he can also be found patrolling campus in his golfcart or stationed at the SLC front desk. You can call campus security for many reasons including:
Suspicious Person
Locked/Unlocked Doors
Opening of Gates
Medical Emergencies
Escort to Vehicles
UGA Alert

UGA Alert is the Emergency Notification System for UGA. The UGA Griffin Campus participates in this service and we encourage all Faculty, Staff, and Students to sign up for emergency alerts. You can do so by going to the UGA Alert website and signing in with your UGA MyID. You can also choose to only receive notifications from the Griffin Campus.
AED (Automated Electronic Defibrillator) & Naloxone Locations
Below are the AED and Naloxone locations on campus. If you need to use one of these, please contact campus security. Campus Security also keeps a mobile AED that is charged in the SLC.
| Building | Location | AED | Naloxone |
| --- | --- | --- | --- |
| Bledsoe Farm | Inside Farm Building | Yes | Yes |
| Cowart | 2nd Floor Near Room 207 | Yes | Yes |
| Dempsey Farm | Envirotron Building | Yes | Yes |
| Flynt Building | 2nd Floor East Hallway | Yes | Yes |
| FoodPIC | Hallway Near Room 100 | Yes | Yes |
| Melton Building | Hallway Near Room 174 | Yes | Yes |
| Mule Barn Cafe | Behind The Counter | | Yes |
| Redding Building | 1st Floor Glass Stairwell | Yes | Yes |
| SLC | 1st Floor Foyer West Wall | Yes | Yes |
| SLC | 2nd Floor Kitchen | | Yes |
| Stuckey Building | 1st Floor Auditorium Foyer | Yes | Yes |
| Stuckey Building | 1st Floor Fitness Center | Yes | Yes |
| Turfgrass Research and Education Center | 2nd Floor Hallways by Restrooms | Yes | Yes |
| Research and Education Garden | Building Lobby | | Yes |
Inclement Weather Policy and Closing Procedures
By policy, the university makes one of three announcements: UGA Griffin is open and operating on a regular schedule; UGA Griffin is closed; or UGA Griffin will delay opening until a specific time.
An all-campus e-mail such as the one you are reading is the primary means to distribute such announcements. The announcement also is posted to the UGA home page (www.uga.edu), the UGA Griffin web page (www.griffin.uga.edu), and UGA Griffin Facebook page (https://www.facebook.com/UGAGriffinCampus/).
Up-to-date information is provided to Griffin local radio stations as follows: • on the AM dial: 1320 and 1450 • on the FM dial: 88.9 and 92.5.
Atlanta TV and radio stations that have requested to receive UGA weather announcements also are notified but should not be considered a primary source for closing announcements.
If inclement winter weather develops overnight, every attempt is made to post announcements and notify media by 6:30 a.m., but if the inclement weather develops after 6:30 a.m. on a school/workday, the same notification procedures are used.
When weather conditions are such that closings occur two or more days in succession, the procedure is followed each day, with an announcement being made each morning by 6:30. An evening announcement usually will not be made for the next day except in the most extreme weather circumstances.
On days when the university generally is scheduled to be closed — such as Saturdays, Sundays and holidays — the university does not usually make blanket closing announcements. Instead, departments and units that have normal operations on weekends and holidays, or units planning to host or present special programs on those days, should make their own prior arrangements with employees and participants, such as a website or e-mail, notifying them how to proceed in case of inclement weather.
When the University of Georgia Griffin campus is officially closed, it is closed for everyone: faculty, staff, and students. Departments will designate, in advance, those employees expected to report to work during a weather emergency.