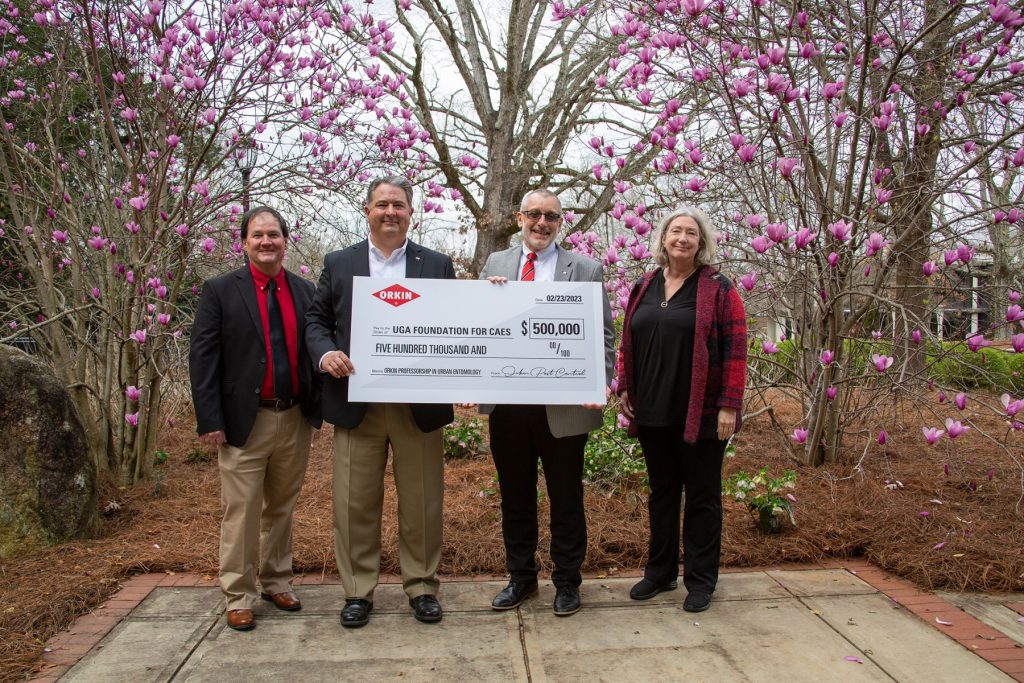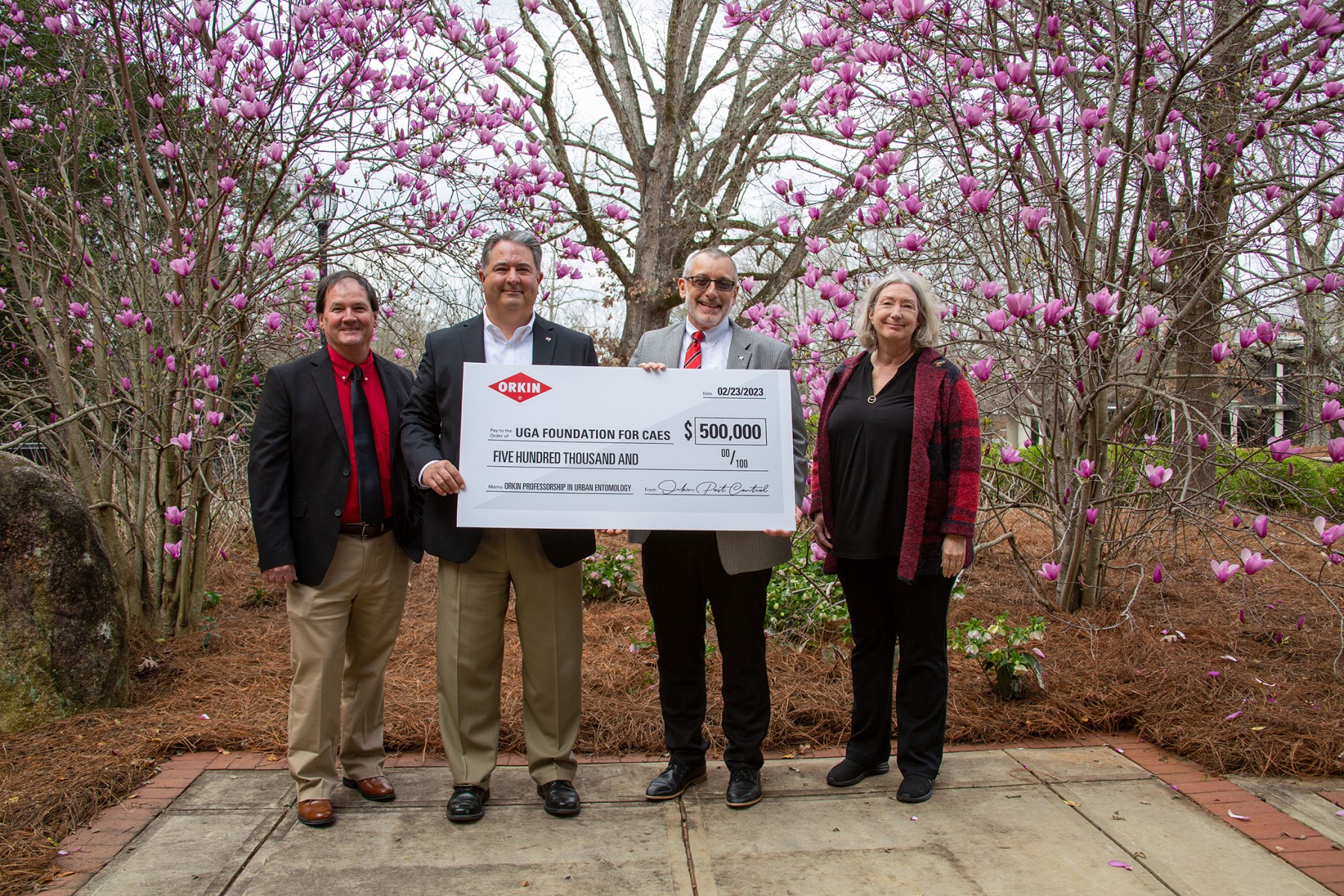 $500,000 endowment will support UGA Extension entomologist Daniel Suiter as Orkin Professor of Urban Entomology
Dan Suiter, University of Georgia Cooperative Extension entomologist and well-known expert in addressing the needs of pest control operators, has been named the Orkin Professor of Urban Entomology at the University of Georgia.
Orkin, an industry leader in pest control services and protection, has created the endowment to help strengthen the entomology program in the UGA College of Agricultural and Environmental Sciences (CAES).
By supporting the CAES Department of Entomology, Orkin is supporting science that delivers transformative research to the world and helping to ensure that UGA faculty in urban entomology are leaders in their field. Orkin's professorship paves the way for new research partnerships that advance the pest control industry, create new businesses and generate new jobs.
"The University of Georgia is very fortunate to have a partner like Orkin to help us increase our impact through teaching, research and outreach," said UGA President Jere W. Morehead. "Their generous endowment of the Orkin Professorship in Urban Entomology will help our College of Agricultural and Environmental Sciences advance this consequential field and support our talented faculty."
Orkin's longstanding collaborative relationship with CAES has supported important industry research, including training between UGA entomologists and Orkin's Technical Services team.
"Dr. Daniel Suiter's experience and knowledge is the perfect fit to fulfill the vision of the Orkin Professorship in Urban Entomology Fund," said Freeman Elliott, recently retired Orkin president and member of the CAES Advisory Council. "As the newly appointed Orkin Professor of Entomology, we're confident Dr. Suiter will be instrumental in supporting Orkin's mission of positively impacting the pest control industry by creating meaningful educational opportunities."
CAES maintains a No. 8 ranking in the world among university entomology programs according to the Center for World University Rankings, due in large part to its outstanding faculty. The college trains entrepreneurs to create new businesses that will invigorate the state's economy, prepares the next generation of students to be tomorrow's industry leaders, and supports farmers and agricultural leaders to help feed the state and the world.
"We are excited to partner with Orkin to strengthen our entomology programs at the College of Agricultural and Environmental Sciences," said Nick T. Place, CAES dean and director. "This new professorship will enable CAES to continue producing world-class research efforts in urban entomology and developing solutions for sustainable pest management in the Southeast and around the world. CAES is grateful to Orkin for their commitment to our entomology programs that support individuals, producers and industry."
Daniel Suiter is internationally recognized for his contributions and leadership in the field of urban entomology extension. His career-long contributions have significantly and positively impacted the pest control industry and the Cooperative Extension system. His innovation and dedication have resulted in sound educational programs trusted by industry professionals, regulatory officials and policy makers.
"The partnership between Orkin, Gary Rollins, Freeman Elliott and UGA stands out among all pest control companies. There really is no equal to Orkin in their long-term support of academic research and Extension programs that support their industry. They truly give back, and they do it quietly and humbly," Suiter said. "In this day and age, when urban pest management programs are disappearing from entomology departments around the U.S., their support is magnified. I am so very appreciative of their generosity and look forward to working with the Orkin team to better the industry."
Suiter's primary responsibility, with a 90% Extension appointment, is providing continuing education to the structural pest control industry and serving as a technical resource for Agriculture and Natural Resources Extension agents in Georgia. Specializing in insect problems associated with homes and other structures — termites, bed bugs, cockroaches, ants, stored product pests, flies, etc. — Suiter's program generates, assimilates and extends knowledge and training to the industry while providing additional problem-solving services.
Endowed professorships are among the most prestigious positions within the university and CAES, and creating named faculty positions is one of the highest priorities for the college. The faculty member carries this title when presenting at conferences and seminars, in official correspondence and in their credentials for websites and other published works.
Learn more about the CAES Department of Entomology at ent.uga.edu. Visit orkin.com to learn about Orkin's commitment to protecting public health.