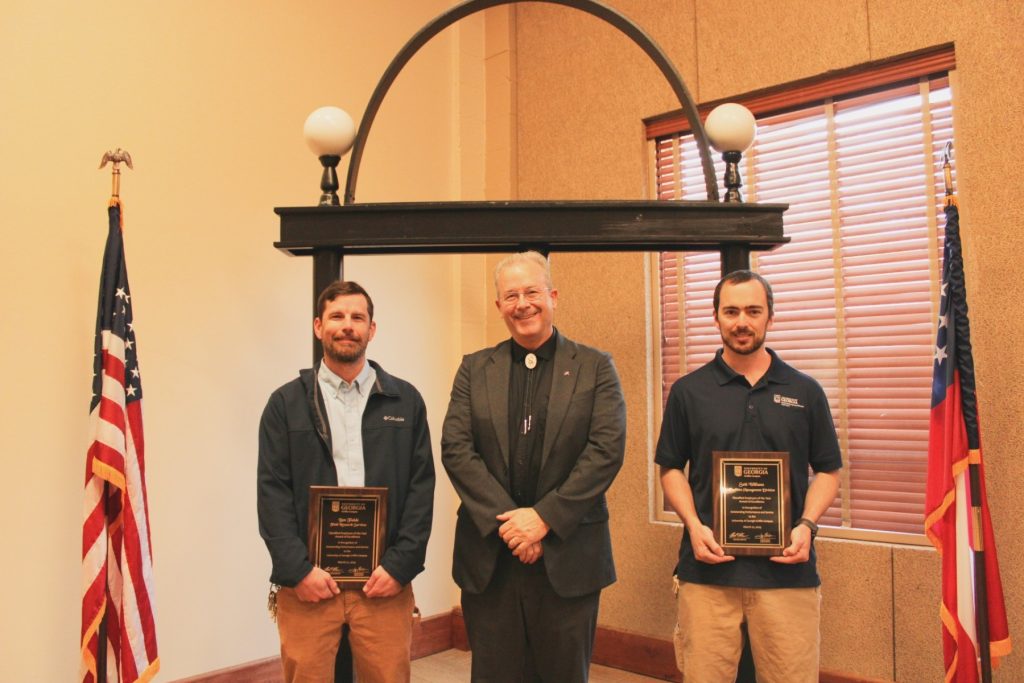 The University of Georgia Griffin campus recently named Ben Fields and Seth Williams as the 2023 Classified Employees of the Year. The designation was made at the 34th Annual Employee Recognition Ceremony held on March 21 at UGA Griffin.
The award is presented to classified personnel who have made the most significant impact on the programs at the UGA Griffin Campus. This is reflected through their superior job knowledge and performance, work attitude, initiative, dependability, and time management. To become a nominee, each individual is selected by his or her unit and must have been a full-time employee on campus for three consecutive years. After all nominations are submitted, the award recipients are determined by a committee of their peers.
This year, seven employees of UGA Griffin were nominated for the Classified Employee of the Year Award- Brett Byous, Entomology; Ben Fields, Field Research Services; Bobby Goss, Food Science and Technology, Angie Lewis, Plant Genetic Resources Conservation Unit; Somerville Rowe, Crop and Soil Sciences; Brian Vermeer, Plant Pathology; and Seth Williams, Facilities Management Division.
Ben Fields
Ben Fields is a Senior Agricultural Specialist in Field Research Services and has been with UGA Griffin for the past 8 years. In his position, Ben oversees all aspects of the grounds for the Griffin campus as well as the Research and Education Garden. He manages and works alongside the grounds crew, designs and installs landscapes, hardscapes, and irrigation systems, as well as maintaining irrigation pumps and well stations throughout campus. Ben is also responsible for scheduling research needs at the Garden as well as community outreach programs and events.
He is described as someone who is very service oriented with great interpersonal skills. Dr. Carol Robacker, an Associate Professor for Horticulture, stated "Ben is an excellent communicator, teaching those who work under him how to do a job and then helping to do the job if need. He is a manager who will get down in the dirt and mud and work as part of the team. He has a great work ethic and cares passionately about our campus."
Seth Williams
Seth Williams has been with UGA Griffin for over 12 years, currently serving as the HVAC/Refrigeration Mechanic for the Facilities Maintenance Division. In his position, Seth frequently works behind the scenes to repair and perform routine preventative maintenance on walk-in refrigeration units, growth chambers, boilers, pumps, motors, valves, ice machines, greenhouses and many other types of air conditioning and heating equipment.
He is described as the quiet, hard-working guy in the background that keeps us all comfortable and is always willing to lend a hand to others in the department. Dale Hess, Superintendent of Plant Operations and Engineering, praised Seth for his exemplary work ethic noting he is committed to providing value to our campus and growing in his trade. "With Seth's hard work and dedication, the Griffin campus is a much more pleasant place to work."
In addition to the awards, the ceremony featured a Program Highlight, which showcases a different area of research or extension on campus each year. This year we featured Academic programs. Melissa Todd, Assistant Director of Academic and Student Affairs, spoke to the crowd about the programs and degrees currently offered on the Griffin campus.
Jeffrey Dean, Assistant Provost and Campus Director for UGA Griffin, congratulated all the honorees on their nominations and noted the importance of hosting the annual awards.
"We are lucky to have many hard-working and dedicated employees who support the UGA Griffin campus operations in many different capacities, so it is important that we recognize and celebrate the exceptional contributions of this particular group who has set a new standard for performance in the future."
Dean also served as the keynote speaker for the ceremony where he thanked the entire staff for their service to UGA Griffin.
Finally, the ceremony also recognized those receiving their Meritorious Service Awards. The awards were presented to faculty and staff who have served the campus for 10, 15, 20, 35 and 40 years.
The following people were recognized for their years of service.
10 Years
Sheri Dorn (Horticulture); Jami Sealy (Southern SARE); Brian Vermeer (Plant Pathology).
15 Years
Richie Braman (Center for Urban Agriculture); John Gassett (Field Research Services); Jack Huang (Crop and Soil Sciences); Gary Ware (Crop and Soil Sciences).
20 Years
Lisa Ames (Entomology); Jennifer Evans (Crop and Soil Sciences); Clint Waltz (Crop and Soil Sciences).
35 Years
Wojciech Florkowski (Agricultural and Applied Economics).
40 Years
Faye Chatman (Franklin College of Arts and Sciences); Jeff Jordan (Southern SARE).
CUTLINES:
Nominees: The 2023 UGA Griffin Classified Employee Award nominees: Ben Fields (Field Research Services), Brett Byous (Entomology), Brian Vermeer (Plant Pathology), Angie Lewis (PGRCU), Somer Rowe (Crop and Soil Sciences), Bobby Goss (Food Science and Technology) and Seth Williams (Facilities Management Division).