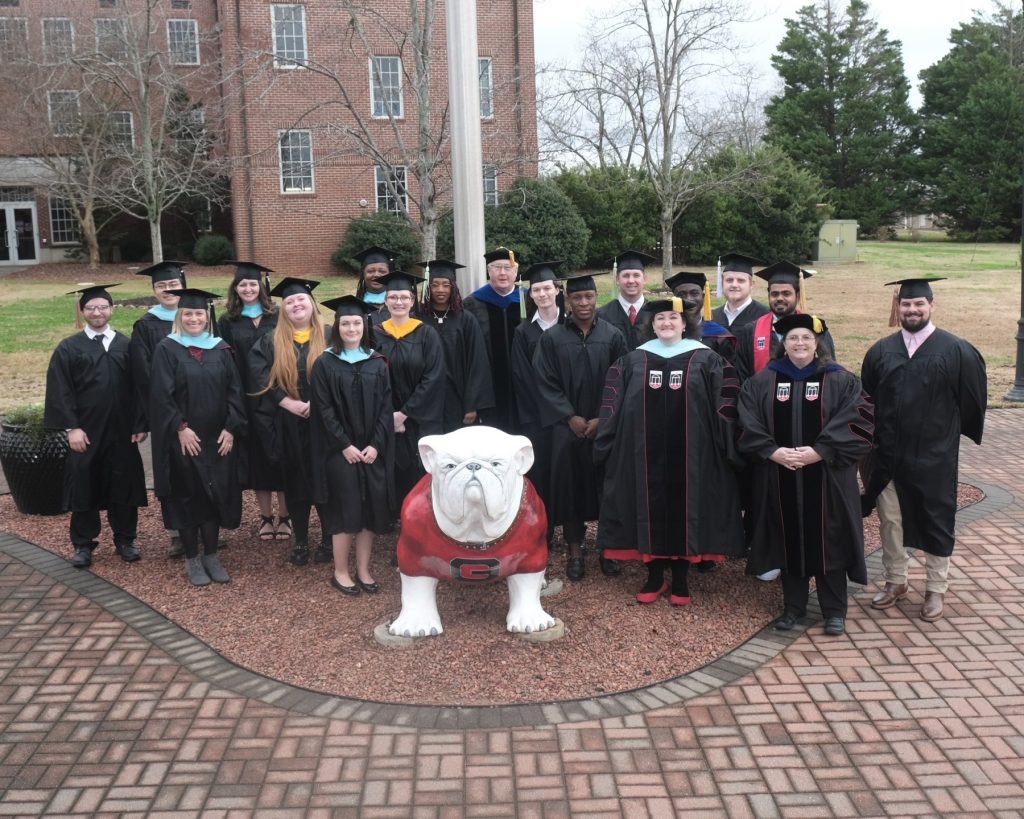 On December 15, the University of Georgia Griffin campus held its' Fall Graduation Celebration and Brick Ceremony for the 19 members of the Class of 2022. These students join nearly 700 other graduates who have completed their degrees at UGA Griffin since 2005.
Each student graduating from UGA Griffin is honored with a lasting mark on campus-a brick featuring their name and class year. The bricks are placed in the walkways around the Student Learning Center and will mark their time on the UGA Griffin campus for generations to come. This aspect is unique to the local campus and the brick laying ceremony is held directly after the graduation celebration in both the Fall and Spring semesters.
David Buntin, Interim Assistant Provost and Campus Director for UGA Griffin, opened up the commencement ceremony in the Stuckey Auditorium by praising the students for their perseverance the last two years throughout all the changes brough on by the COVID-19 pandemic.
"The last few semesters have been challenging with restrictions on our instruction and events, but you all persevered and were able to graduate," said Buntin. "We are very pleased to celebrate your graduation with you and hold this Griffin campus ceremony today."
College of Agricultural and Environmental Sciences graduate Ikechukwu Oguadinma, was selected by faculty to be the student speaker for the graduation event. He spoke to his classmates about being part of a community during his time at UGA Griffin.
"In Africa we have a belief that it takes a community to raise a child," said Oguadinma who is a native of Nigeria. "I have indeed been raised by a wonderful community both in Nigeria and in Griffin."
He credited much of the community feel to the friends he has made, as well as the faculty, researchers and support staff of the campus. Adding that even when the world shutdown because of the COVID-19 pandemic, he was amazed at how everyone rallied together to come up with creative solutions to keep themselves and their community active.
"To the class of 2022 I have no doubt in my mind that we will thrive wherever we find ourselves because we are warriors who understand the strength in the collective," said Oguadinma.
Marisa Pagnattaro, Vice President for Instruction at UGA, gave the keynote address where she praised the students for the hard work and dedication, they put forth in pursuing their degree.
"You persevered because that is what you do," said Pagnattaro. "We are here to honor you today because of your drive and your determination. I'm grateful to be here to celebrate your achievements and I hope your degree has put you on a path to a career you will find productive and meaningful. It will open doors and the work you engage in will make a difference for yourself and others."
In her address, Pagnattaro encouraged students to appreciate the relationships they have forged over the years, for they may be just the thing that can change the course of their life. She added that while they are graduating and making plans for the future, to be sure to keep in touch with those from the past.
"Your favorite professor might write you a letter of recommendation some day or send a job lead your way. They might give you some great career guidance that can change your life," she stated.
In closing, Pagnattaro wished the students well on their future endeavors.
"Exciting opportunities are ahead of you as you go out into the world. I hope you have a meaningful career, significant connections with others and many moments to enjoy the small things. Make sure to engage in acts of kindness that will add richness to your life and those around you," said Pagnattaro. "So be proud of yourself and know that we are so very proud of you…congratulations and go Dawgs!"
Following is a list of UGA Griffin Graduates and their degrees:
Franklin College of Arts and Sciences
Joshua Cain, Bachelor of Arts
Aaron Williams, Bachelor of Arts
College of Agricultural and Environmental Sciences
Miracle Alexander, Bachelor of Science in Environmental Resource Science
Addison Longino, Bachelor of Science in Environmental Resource Science
Daniel Nordstrom, Bachelor of Science in Environmental Resource Science
Rehan Arshad, Master of Science
Ravneet Kaur, Master of Science
Zia Williamson, Master of Science
Morgan Willis, Master of Science
Ikechukwu C. Oguadinma, Doctor of Philosophy
Mary Frances Early College of Education
Shelly Deen, Master of Education
Haoran (Mickey) Yang, Master of Education
Cassandra Barlow, Educational Specialist
Heather Harbin, Educational Specialist
Rachel Tuck, Educational Specialist
Nicole Kogan, Doctor of Education
Tami Boyle, Doctor of Education
Terry College of Business
Gavin Bennett, Bachelor of Business Administration
Ricardo Rojas, Bachelor of Business Administration