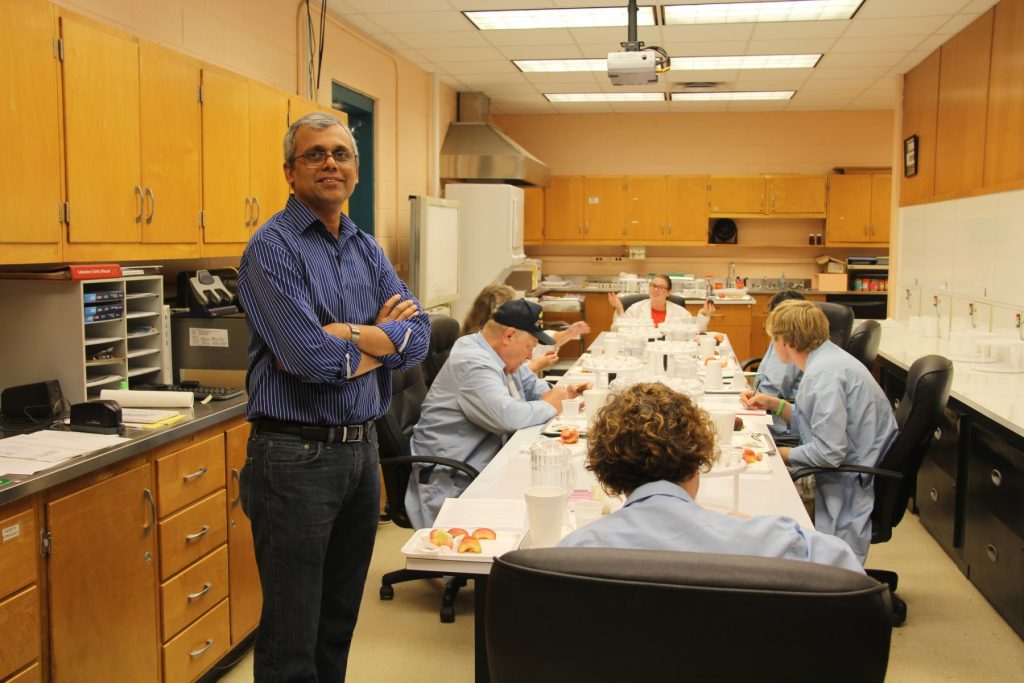 A University of Georgia food scientist is turning to a logical source for input on which foods consumers like and which they don't like. His research involves recruiting people from all walks of life to come into his laboratory in Griffin, Georgia, and taste food. Since joining the UGA College of Agricultural and Environmental Sciences a year ago, sensory scientist Koushik Adhikari has led consumer panels on roasted peanuts, Vidalia onions, steak and dog food. (No, the recruits didn't actually taste the dog food. Based on the dog food's appearance, they rated the likelihood they would buy it for their pets.)
"Generally, people are fearful of what they didn't grow up eating," said Adhikari. "They may dislike a food for a specific reason. I don't like ice cream because I worked for an ice cream company for several years."
The field of sensory science is all about data, he said. After asking 100 consumers to taste six samples, Adhikari and his team generate a lot of data that, after analyzed, gives food companies a plethora of information on how consumers will accept, or reject, their product.
"Most of the companies we work with just want the data because they have their own statisticians," he said. "Then other companies want us to analyze the data for them. It can go both ways."
In the UGA Department of Food Science and Technology Sensory Laboratory, untrained and trained "taste testers" are used to analyze food samples. Untrained panelists are, simply, people who eat food.
"The trained panelists are a lot like an instrument. They can detect things like how much acidity there is in a product," Adhikari said. "We train them to pick out specific attributes."
Training includes, among other things, being able to identify a variety of flavors by smell alone. Both trained and untrained panelists have their place in sensory science, Adhikari said.
Some food companies just want consumer opinions on a product's taste, and other companies want information so they can modify or improve their product.
"The untrained panel can give feedback on whether they like or don't like the product. The trained panel can tell them which attributes are problematic or tell them which attributes drive the consumer to like the product," he said.
UGA Cooperative Extension peach specialist Dario Chavez just planted a peach orchard on the UGA campus in Griffin. Here, he and Chunxian Chen, a U.S. Department of Agriculture Agricultural Research Service (USDA-ARS) fruit and nut research unit peach scion breeder, will explore new peach varieties based on Adhikari's trained panel data and consumer panelists' taste preferences.
In the past, new peach varieties have traditionally been bred based on characteristics like fruit size, the number of fruit each tree can produce and how well the fruit stands up to shipping.
Over the years, unique peach flavors have been lost over the years because breeders have focused on yield, size, firmness and external color, Chavez said.
Adhikari is also asking consumers to taste Vidalia onions, in cooperation with Daniel Jackson in the UGA Crop Quality Laboratory in Athens, Georgia. He led a wide-reaching public taste test to determine the level of pungency of onions consumers like the best.
To participate in a UGA Sensory Laboratory consumer taste panel, call Paula Scott, Adhikari's lead technician and a trained panelist, at (770) 412-4747, ext. 230.