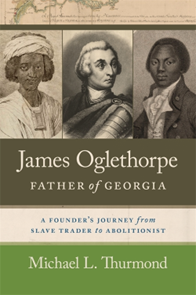 Founded by James Oglethorpe on February 12, 1733, the Georgia colony was envisioned as a unique social welfare experiment. Administered by twenty-one original trustees, the Georgia Plan offered England's "worthy poor" and persecuted Christians an opportunity to achieve financial security in the New World by exporting goods produced on small farms. Most significantly, Oglethorpe and his fellow Trustees were convinced that economic vitality could not be achieved through the exploitation of enslaved Black laborers. Due primarily to Oglethorpe's strident advocacy, Georgia was the only British American colony to prohibit chattel slavery prior to the American Revolutionary War. His outspoken opposition to the transatlantic slave trade distinguished Oglethorpe from all of America's more celebrated founding fathers. James Oglethorpe, Father of Georgia uncovers how Oglethorpe's philosophical and moral evolution from slave trader to abolitionist was propelled by his intellectual relationships with two formerly enslaved Black men. Oglethorpe's unique "friendships" with Ayuba Suleiman Diallo and Olaudah Equiano, two of eighteenth-century England's most influential Black men, are little-known examples of interracial antislavery activism that breathed life into the formal abolitionist movement. Utilizing more than two decades of meticulous research, fresh historical analysis, and compelling storytelling, Michael L. Thurmond rewrites the prehistory of abolitionism and adds an important new chapter to Georgia's origin story.
Meet the Author
Michael L. Thurmond is the chief executive officer of DeKalb County, Georgia. He is the author of Freedom: An African-American History of Georgia, 1733–1865 and A Story Untold: Black Men and Women in Athens History. Thurmond has previously served in the Georgia legislature, as director of Georgia's Division of Family and Children Services, as Georgia labor commissioner, and as superintendent of DeKalb schools.
Mr. Thurmond graduated cum laude with a B.A. in Philosophy and Religion from Paine College and later earned a Juris Doctor degree from the University of South Carolina School of Law. He also completed the Political Executives program at the John F. Kennedy School of Government at Harvard University. In 1997 Thurmond became a distinguished lecturer at the University of Georgia's Carl Vinson Institute of Government. He lives in Stone Mountain, Georgia.