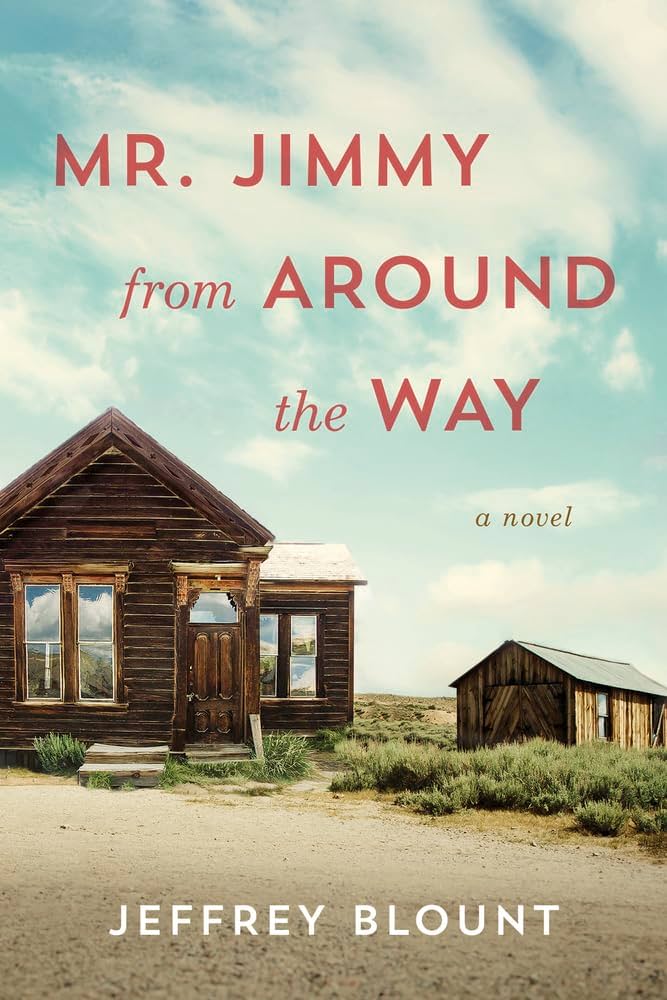 As J. R.R. Tolkien wrote, "An author cannot, of course, remain wholly unaffected by his own experience." Every time Jeffrey Blount sits down to write, he is fully aware that his words will produce a product reflective of Tolkien's quote. Not only can't he wholly separate himself, he doesn't want to. He understands that his life experiences, including the lens his 34 years in journalism provided for him, are some of the richest parts of his life. Those experiences provide opportunities to highlight the many issues that have crossed his life path. And there are many that concern him. As Flannery O'Connor wrote, "Anyone who survives a southern childhood has enough material to last a lifetime." Jeffrey says that his new novel, Mr. Jimmy from Around the Way, is a work of activism, speaking out on poverty, inequities in housing, education, healthcare, and justice. How can all of that happen in one novel? Because in every poverty stricken neighborhood in America each issue is always represented in some measure. He thinks of Mr. Jimmy from Around the Way as one road map to addressing some of these issues. It is also about the village and what that looks like. Who can and should help. Who stands in the way. And while the word activism may make some people uncomfortable, the characters in this book eventually provide a master class on the activism of kindness that, as Jeffrey says, "We can all get behind. As my parents said to me and my brothers, "If you want to feel good about yourself, do something for somebody else. Even through his own pain, just watch Mr. Jimmy work."
Watch the book trailer for Mr. Jimmy from Around the Way here:
Meet The Author
Jeffrey Blount is the award-winning author of three novels — Almost Snow White, winner of the 2013 USA Best Book Awards. Hating Heidi Foster, winner of the 2013 Readers Favorite Book Award for young adult literature and The Emancipation of Evan Walls, winner of the 2020 National Indie Excellence Award for African American fiction, winner of the 2019 Readers Favorite Book Award, winner of the 2019 American Bookfest Best Book Award and a Shelf Unbound 2019 Notable Book.
He is also an Emmy award-winning television director and a 2016 inductee to the Virginia Communications Hall of Fame. During a 34-year career at NBC News, Jeffrey directed a decade of Meet The Press, The Today Show, NBC Nightly News, and major special events. He is the first African-American to direct The Today Show.
He was a contributor for HuffPost and has been published in The Washington Post, The Grio.com and other publications, commenting on issues of race, social justice and writing.
He is also an award-winning documentary scriptwriter for films and interactives that are now on display in the Smithsonian Museum of African American History and Culture. America I AM: The African American Imprint at the National Constitution Center. The Museum at Bethel Woods, at the site of the 1969 Woodstock Music and Arts Fair, and others. These projects have won Cine Golden Eagle Awards, Muse Awards and a Thea Award.
In 2017 and 2018, Jeffrey served as Journalist in Residence and Shapiro Fellow at the School of Media and Public Affairs at The George Washington University.
Jeffrey earned his university's alumni achievement award – the VCU Alumni Star – for his professional achievements as a director at NBC, script writer and author. He also served as a member of the advisory board at the Richard T. Robertson School of Media and Culture at Virginia Commonwealth University, his alma mater. He also served as a member of the national board of the non-profit Reading Partners, dedicated to the mission of child literacy.
Born and raised in Smithfield, Virginia, he now lives in Washington, DC.