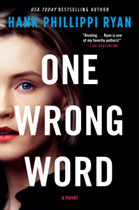 Greed. Gossip. Revenge. Words have the power to change lives, and no one knows that better than crisis management expert Arden Ward. But she's in big trouble—she's accused of having an affair with a client. It's not true! She would never do such a thing! But she gets the blame—and now she's about to be fired.
Arden is granted two weeks to save her career and her reputation. And then she meets Cordelia Bannister.
Cordelia needs help for her husband Ned, a powerful Boston real estate mogul. Though he was recently acquitted in a fatal drunk driving accident, his reputation was utterly ruined, and the fallout is devastating not only to the Bannisters, but to their two pre-teen children.Arden devotes her final days on the job to helping this shattered family, but soon, revelations about what really happened the night of the accident begin to emerge. And then–another tragic car crash throws Ned back into the spotlight.
This case is Arden's last chance to protect her own future and clear her name–and the Bannister kids may be in danger! But as she tries to untangle the truth, a disturbing question haunts her—what if she's protecting a murderer?
Greed. Gossip. Revenge. Everyone believes that words can never hurt them, but Arden knows the reality. And she soon discovers that one wrong word will not only kill her reputation—it may kill Arden herself.
Meet The Author
Hank Phillippi Ryan is the USA Today bestselling author of 14 psychological thrillers, winning the most prestigious awards in the genre: five Agathas, five Anthonys, and the coveted Mary Higgins Clark Award. She is also on-air investigative reporter for Boston's WHDH-TV, with 37 EMMYs and dozens more journalism honors. She's the only author to win the Agatha in 4 categories: Best First, Best Novel, Best Short Story and Best Non-Fiction.
Hank has wired herself with hidden cameras, confronted corrupt politicians, chased down criminals, and gone undercover and in disguise— and handled stories from the Atlanta missing and murdered children to the Boston Marathon bombing. She has changed laws and changed lives with her investigative reporting — gotten people sent to prison, gotten family's homes out of unfair foreclosure, and recovered millions of dollars in refunds and restitution for consumers. At least five new laws have been passed as a result of her investigations. She has won 37 Emmys for investigative reporting — and as she says, every one of those Emmys represents a devastating secret that someone was trying to prevent her from telling. Now, she brings that exclusive inside look into the criminal mind and the stories that captivated us all — and with her skills as an investigative reporter now turned to fiction, she creates realistic page-turning suspense.